Thames Weirs
Approached by the Environment Agency and employed by both Halcrow and Atkins, EPD undertook sub-consultant work to improve safety and reduce the hazards posed by new radial gate hydraulic control structures at both Shepperton B weir and Radcott weir, both on the River Thames. Deflector plates were designed and tested at a range of flow (head and tailwater levels) within a physical hydraulic model and their optimum position derived. The deflectors form a weak spot in the centre of the powerful hydraulic jump formed at the bottom of the gates. The central weak spot allows a semi-buoyant object to be flushed away from the powerful tow back into the hydraulic jump.
Mapledurham
Working with Halcrow consulting Engineers on a wide scheme of Thames weirs safety improvements an opportunity presented itself for an ideal and low cost solution to provide a real recreational opportunity at the Mapledurham weir site.
During scheduled works to replace an old weir structure with a radial control gate a number of Unistrut rails were quickly, easily and discretely inserted into the concrete base slab immediately downstream of radial gate.
Upon completion of the engineering works a trial was undertaken to demonstrate the ease and speed with which the RapidBlocs system could be installed and a paddlesports feature formed. Tests on downstream velocity were undertaken along with a procedure for installation, removal and operation drafted. The site demonstrates the ease with which some forethought can allow a very cheap addition to existing engineering works can derive an excellent paddlesport feature that does not detract from the river structures primary function.
Astrakhan
As part of a programme of works for the Russian Canoe Slalom Federation, Astrakhan is the first in a series of whitewater courses. Astrakhan is located in the south of Russia and the project has commenced with selection of course layouts and estimates of construction cost.
Chosen layout for design development including the novel and innovative package course marketed as the Rapid Water Course.
Bridgend / River Ogmore
Paddlesport Development Opportunities
This report examined the feasibility of developing paddlesports on the River Ogmore at Bridgend; specifically on the river adjacent to the Recreation Centre. A "Canoe Park" was proposed to utilise the available head and flow in the natural river, forming a series of small and interesting rapids, interspersed with deeper pools.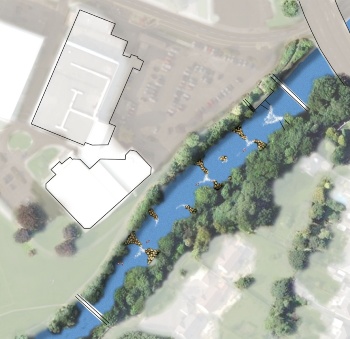 Sefton
Located at an excellent watersports centre this project has involved scoping and promoting a Rapid Water Course at the Sefton site.
Analysis of the venue has taken place along with promotional material for this exciting venue

Kinlochleven
An early project for EPD working with the tailrace development group to focus 24 / 7 hydro flows into a more concentrated rapid and paddlesport play feature. Work was undertaken on hydrology, fisheries and detailed hydraulic analysis into flood risk and water velocities in channel in relation to erosion and fish passage.
Evans Weir – River Tavy
Whilst engineering works were being undertaken at a nearby weir EPD were contacted at short notice to examine if Evans weir could be improved for paddlesport activity.
EPD quickly assessed the hydrology of the site as well as understanding the hydraulics involved in the Evans weir complex. A small site survey was undertaken to determine head across the weirs and the suitability for modification to enable the use of RapidBlocs in stream at the weir to form a play feature.
A number of outline drawings were very quickly produced to allow quick consultation with the Environment Agency over the proposals.
Carmyle Weir – River Clyde
As part of a proposed hydro electric generation project around Carmyle Weir on the River Clyde, near Glasgow, EPD were asked to make an assessment of the weirs potential for forming a paddlesports venue.
Previous work on the site along with hydrometric data was analysed alongside the hydro generation proposals. Outline design work and costing was undertaken for a paddlesports venue at the location and proved very valuable for the clients assessment of the site for future development.
Firhill Basin
Located on the Glasgow branch of the Forth and Clyde canal Firhill Basin is a relic of the industrial past. As part of ongoing canal regeneration works EPD specifically looked at Firhill Basin and its ability to host a multi-disciplinary facility. Specifically the basin was examined for activity use such as sailing, power-boating, kayaking, Canadian canoeing, windsurfing, bell boating etc with measures on water area available, depth, water quality, storage requirements, changing etc all being considered to aid future architectural design work going on in the area. A package of information was derived on the capacity of the basin and surrounding canal network in terms of a specific sailing fleet, canoeing/kayaking numbers etc. This then permitted the derivation of changing room sizes, equipment storage, car parking etc. Up until the EPD work no realistic assessment of the basin had taken place.
Taff Trail Canoe Access Points
Working with Snowdonia Active an examination was made for the access and egress points around three weirs on the River Taff that form part of the proposed Taff canoe trail.
A number of options existed to service the need to portage around the weirs and these were covered first in generic terms and then indicative costs are put forward to apply the principles to the three portage locations.
Thomastown
Located in Ireland, EPD worked closely with JBA consulting to form a paddlesport friendly weir rebuild. Options examined were a canoe shoot / fish pass, modification of a rock ramp weir, rock channel for canoeing and a dedicated canoe channel.